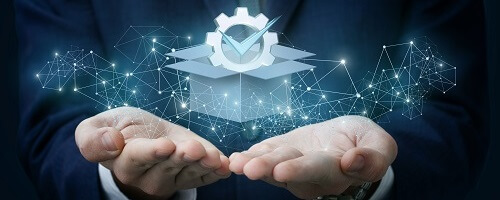 Blog
Controlling Product Quality is the Name of the Game for Continuous Bioprocessing
February 12, 2020
What are some challenges in continuous bioprocessing, particularly protein glycosylation and scaleup, and in technology transfer from one site to another? Those were the issues discussed by Rustin Shenkman, PhD, associate director, biologics process development at Shire, now part of Takeda, during his presentation at the recent Bioprocess International Conference in Boston which was titled, "Control of Protein Glycosylation in a Continuous Bioreactor Process."
Maintaining product quality is a risk for any process scaleup or site transfer. All the more so for a highly glycosylated protein whose mode of action or patient safety depends on those post-translational modifications. For instance, a new bioreactor design or even a scaleup of a similar design alters fluid hydrodynamics and aeration which in turn can impact cell culture performance and product quality, according to Shenkman.
His conference presentation described a case study in which a legacy continuous process, utilizing a custom stainless steel bioreactor, was transferred to a single-use bioreactor. Inevitably the facility change resulted in changes to the processing and hydrodynamic environment of the cells, noted Shenkman, who added that both performance and product quality were impacted. This presented a risk to analytical comparability and necessitated a mitigation plan, he said.
Shenkman also addressed the question: What capabilities does continuous bioprocessing possess to modulate product quality to achieve analytical comparability? A continuous bioprocess, such as the one he described, allows one to analyze product quality throughout the run, i.e., a continuous bioreactor generates product-containing harvest day after day. A unit volume of harvest can be purified for product quality while harvest continues to be generated from the run. This means that while developing a continuous bioprocess the operating parameters can be changed and the effects evaluated during the same run. Further changes or corrections can be made without starting another run, he pointed out.
In this case study, a relationship was discovered between an operating parameter, cell density, and a number of critical quality attributes (CQAs). The relationship is dynamic such that increasing the cell density during a run moved CQAs of bioreactor harvests in one direction. Decreasing the cell density then moved CQAs of bioreactor harvests toward the other direction. "A continuous bioprocess allows us to measure successive responses to process perturbations in the classical sense," he said.
The most expeditious path to mitigate the risk to analytical comparability at the new site was to revise the operating parameter range so that all CQAs in the receiving site returned to the historical ranges of the legacy sending site, continued Shenkman. So long as the cell density at the new site was maintained within an allowable range harvests could be purified to drug substance that satisfied legacy control limits and the risk of out-of-specification (OOS) results was low. The new control strategy was an important contribution to the success of the technology transfer, he said.
"I think that it was precisely because this was a continuous process that a control strategy could be devised to mitigate the risk to product quality at the new site in such a short amount of time," he noted, adding that what applies to the standard panel of analytical methods also holds true for extended characterization.
"We performed metabolomic and proteomic analysis to get a deeper understanding of the impact of process changes on intracellular biochemistry. This being a continuous process, fresh medium and waste metabolites are continually perfused, so cell health remains high," he explained. "The observations from extended characterization are thus more likely to be due to the parameter settings rather than the myriad other perturbations that occur in a fed-batch process."
The extended characterization of this continuous bioreactor process revealed other process parameters that had the potential to increase productivity while maintaining product quality. "This was a very exciting result," he said.
"Continuous bioprocessing is an enabler of improved process control, leading to higher product quality, which in turn should enhance patient safety," says Peter Levison, executive director, business development, Pall Corporation.
Learn more about Continuous Manufacturing of Viral Vaccines in the blog post by John Sterling, GEN, guest author.
Originally published by Genetic Engineering & Biotechnology News.
John Sterling – Editor in Chief, GEN
John, joined GEN as an assistant editor in 1984 and became chief editor in 1989. He holds a B.S. in Biology from The City College of New York and a Master of Arts in journalism from the University of Minnesota.
John, joined GEN as an assistant editor in 1984 and became chief editor in 1989. He holds a B.S. in Biology from The City College of New York and a Master of Arts in journalism from the University of Minnesota.
Read more