Pall Solutions For Hemp Oil
Helping to deliver the highest quality and standards in hemp oil filtration
Legalization of hemp in Canada and some US states has led to a market shift. With the cannabis edibles market expected to surge to $20 billion by 2024, consumer interest has grown rapidly. This new wave of consumption has led retailers to host a wide range of new hemp products to meet consumer demand.
In a new and increasingly crowded market, having the right products for applications will ensure manufacturers remain competitive. With solutions for clarification, color removal and pathogen detection, Pall can offer a range of solutions to guarantee a better quality product.
Download our solutions bulletin, "Pall Solutions for Hemp Oil" to learn more about:
Pall's leading solutions in hemp oil clarification
How Pall's filter modules make easier handling and more hygienic carbon treatment
Pathogen detection that provides fast reliable results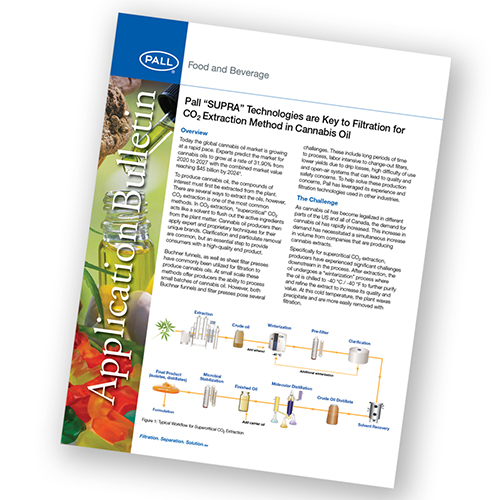 Die Pall Corporation unterstützt, fördert und bewirbt nicht den Einsatz ihrer Produkte oder Dienstleistungen in Verbindung mit dem illegalen Gebrauch, der Kultivierung oder dem Handel von Cannabis und Cannabisprodukten. Die Produkte von Pall sind nur dann für Einsatzzwecke hinsichtlich Cannabis geeignet, wenn bei diesen die geltenden Gesetze eingehalten werden, auf eine Art und Weise, die die öffentliche Sicherheit fördert und/oder die in Verbindung mit gesetzeskonformen und genehmigten Wissenschafts- und Forschungsaktivitäten steht.