Im Tank montierte Versalon™ T200 Ölfilterbaugruppe für Hydraulik-Rücklaufleitung
Entfernen Sie schädliche Kontamination aus kritischen Systemflüssigkeiten und verlängern Sie die Lebensdauer von Geräten.
Der tankmontierte Filter Versalon T200 überzeugt durch die Kontrolle von Verunreinigungen und bietet ein unerreichtes Preis-Leistungs-Verhältnis. Mit seiner Coralon Filtertechnologie bietet der T200 konkurrenzlos konsistente Reinheit von Flüssigkeiten in Situationen, wo strikte Kontaminationskontrolle erforderlich ist. Die Versalon Serie wurde speziell für OEMs von industriellen und mobilen Geräten entworfen.
Der T200 ist der ideale Rücklauffilter für die Filtration von Schmier- und Hydraulikflüssigkeit, egal ob für Baumaschinen, Landtechnik oder Industriegeräte. Die hohe Leistung der Coralon Elemente bietet OEMs eine längere Lebensdauer wichtiger kritischer Komponenten und potenziell weniger Garantiefälle aufgrund von kontaminationsbedingt schnellerem Verschleiß.
Wichtige Merkmale des im Tank montierten Versalon T200 Filters für Baumaschinen, Landtechnik oder Industriegeräte: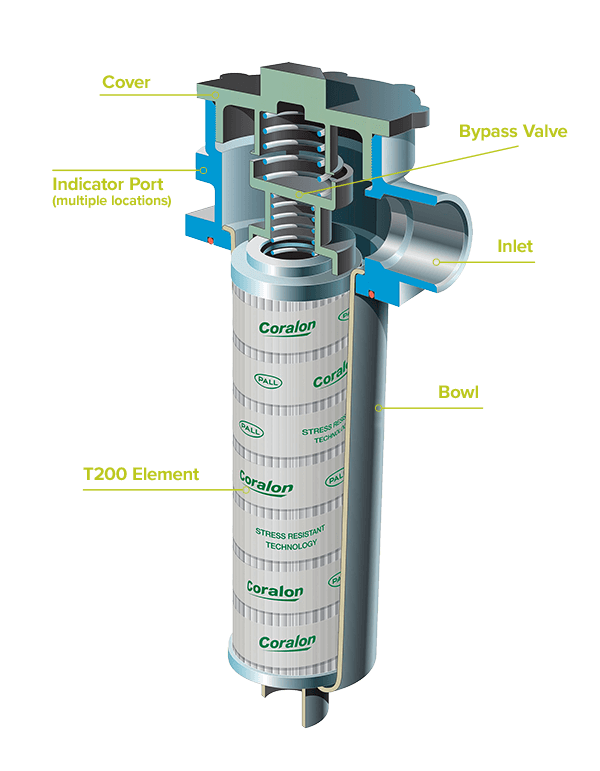 Ölfilterbaugruppe für Hydraulik-Rücklaufleitung

For over 30 years, Pall has been a global leader in high-tech filtration, separation, and purification, serving the diverse needs of customers accross the broad spectrum of life sciences and industry .
Our industrial filtration solutions utilize advanced filtration and separation technology to deliver enhanced contaminant removal at various points in industrial appliations. We are the industrial manufacturing partner for ensuring pure processes and less downtime through superior filtration solutions. Contact our team of filtration experts here to learn more about our advanced filtration solutions today!