Will Your State Be Next to Go Smoke Free?
Date: April 29, 2021
It's official! Kentucky will be joining Colorado and Rhode Island in passing the surgical smoke-free legislation. The Association of Perioperative Registered Nurses (AORN) government affairs team and Kentucky AORN members worked with the Kentucky Nurses Association (KNA) to educate lawmakers and advocate for this important workplace safety legislation. Jennifer Pennock, the senior manager of AORN Government Affairs stated, "Our work for similar legislation will continue across the U.S. until smoke in the operating room is as unacceptable as cigarette smoke on airplanes." 1 Now we patiently wait and see what states will follow suit.
What Causes Surgical Smoke?
During surgical procedures, smoke is produced when energy generating devices such as lasers or electrosurgical units also known as cautery are used to stop bleeding or incise tissue. The energy generating devices raise the intracellular temperature to boiling (i.e., 100° C /212° F). At these high temperatures the tissue vaporizes producing surgical smoke.2
The Harmful Impact of Surgical Smoke
While surgical smoke is not only a nuisance due to the foul odor and vision obstruction to surgeons, it also puts the entire surgical staff's health at risk. Surgical smoke is a mix of volatile liquids and gaseous compounds derived from the degradation of tissue during laser and electrocautery surgeries. Among the substances found in surgical smoke are noxious, toxic, teratogenic, carcinogenic bio-hazardous chemicals. Chronic exposure to surgical smoke is a concern for healthcare professionals working in a confined space of the OR where toxic constituents of the smoke can be inhaled and absorbed through the lungs.3 This is also harmful to the patient, as they can absorb smoke into the peritoneum and cause nausea or a longer recovery time.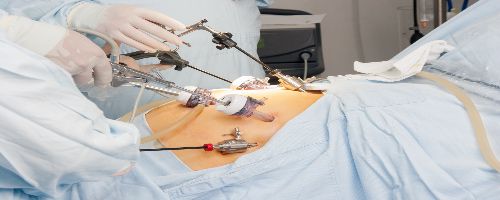 The production of smoke and aerosols from minimally invasive surgeries has shown to contain toxic gases, viable and viable cellular material, vapors and particulates, viruses, and bacteria. Over one-half million healthcare workers including surgeons, nurses, surgical technologists, and others are exposed to surgical smoke each year. Transmission of human papillomavirus (HPV) through surgical smoke from lasers has been documented. This raises concerns about possible infections from desufflation gases. To avoid the risk of smoke inhalation and potential SARS-CoV-2 transmission, several national and international societies recommend surgical smoke filtration in response to the COIVD-19 crisis.
What May Support?
The Pall LaparoShield Smoke Filtration System has been designed to remove viruses, bacteria, particles, liquids and volatile chemicals with high efficiency and is an easy to implement barrier to contamination originating from surgical smoke.
References
AORN (2021Kentucky Secures Third Place in States' Race to Go Smoke Free [Online]. Available at: https://www.aorn.org/About-AORN/AORN-Newsroom/Health-Policy-News/2021-Health-Policy-News/Kentucky-Passes-Smoke-Bill (Accessed: 16 April 2021)
CDC (2020). Surgical Smoke Inhalation: Dangerous Consequences for the Surgical Team [Online]. Available at: https://blogs.cdc.gov/niosh-science-blog/2020/06/18/surgical-smoke/#:~:text=At%20high%20concentrations%20the%20smoke,rooms%20across%20the%20United%20States (Accessed: 16 April 2021)
(2016). Pall Laparoshield® Laparoscopic Smoke Filters, Pall Technical Report # 160329.4AGL