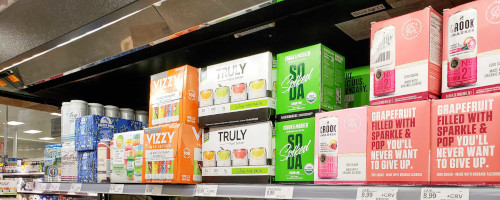 Blog
Learn How to Filter Hard Seltzer in Pall's Latest Application Bulletin
January 6, 2020
Today Pall Food & Beverage is excited to announce the launch of our latest application bulletin, "Hard Seltzer Filtration Process Improved with Pall Solutions."
Many in the food and beverage industry may have believed hard seltzer was a fad, but it is showing no signs of fizzling out. With a low-calorie count and reduced alcohol content, it is continuing to attract health-conscious men and women of all ages.
According to a story in USA Today, in June 2020, Nielsen reported that sales of hard seltzer quadrupled year-over-year. Drink industry analysts at IWSR expect consumption to triple by 2023 and industry experts believe hard seltzer is still poised for more growth and evolution.
However, filtering hard seltzer comes with its own unique set of challenges. For example, when producing hard seltzer it can be difficult to:
Create a Colorless Beverage

After fermentation, hard seltzer can be hazy and have a slight color. Consumers expect a crystal-clear product.
Create a Flavorless Base

Typically during filtration, Powder Activated Carbon is used. There are drawbacks to this method, as low alcohol levels combined with the absence of hops or sulfur make hard seltzer products receptive to spoilage microorganisms. Fruit sources create new and different yeast and bacteria spoilers – which have a major impact on the flavor of the beverage.
"We wrote this bulletin because we've seen breweries begin to produce seltzer, and witnessed them experience these challenges," said Reiner Gaub, Beer Market Manager. "While the filtration process is similar to beer, it has its own unique requirements and the low carbohydrates, sugars, alcohol and protein levels mean that developing the right taste profile can be difficult. Pall supports many applications within food and beverage manufacturing, so we wanted to share our experience and technology to support hard seltzer filtration."
To learn more about Pall's solution on how to filter hard seltzer in various applications, please download our application bulletin.