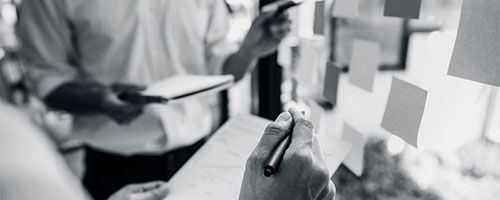 Blog
5 Reasons to Work at Pall
At Pall, we are driven by a sense of wonder for what we can create and what we can become. What you can find here, and within yourself, might just change the world. Learn five reasons why you should join the Pall team:
1. Improve Every Day: Danaher Business Systems (DBS) is more than a set of tools and processes – it's the defining element of our culture. When you don't know where to begin, or the next step needed to solve complex problems, DBS offers common-sense solutions to carry you forward. DBS is our shared language, and where we find daily inspiration. It enables change not for its own sake but because we believe that our work is never done, and that we can always do better tomorrow.
2. Win as a Team: When you join the Pall team, you'll work alongside top leaders in their fields. But excellence doesn't breed ego. Our leaders are empathetic, thrive on collaboration and are drive as much by supporting your success as achieving their own. Together, you'll set high standards, deliver results and celebrate wins, all while charging toward what's next.
3. Make an Impact: A lot of companies promise you'll have an impact. While we certainly promise that you'll experience the impact of your hard work every day, we can also assure that the work you're doing will make the world a better place.
4. Feel Like You Belong: By building a culture rooted in inclusivity, we maximize the unique perspectives and fresh ideas available to drive innovation, fuel growth and ensure our products serve a global customer base. Building a diverse and inclusive Pall organization is an ongoing journey. Every day we challenge our own biases, while ensuring all associates have a voice.
5. Become Your Best: At Pall, growth is an imperative – both for our business and for our associates. Whether you want to master your current role or reach for a new one, our leaders are committed to developing your potential. We'll encourage you to wonder what's next and offer tangible paths to get there.
With so many areas to apply your innovative thinking, you're sure to find the one that fuels your passion. Come push the boundaries of what's possible - see our current opportunities here.
Never miss the latest news and offers
Ready to receive industry insights from Pall Corporation?