Automotive Paint Filtration
Improved Surface Finish and Reduced Rejection Rates
We offer a range of filtration solutions built for the demands of OEM and Tier 1 suppliers. Built to withstand high flow rates, multiple shifts, and keep defects due to contamination to zero; our premium quality fine filtration elements will keep production moving.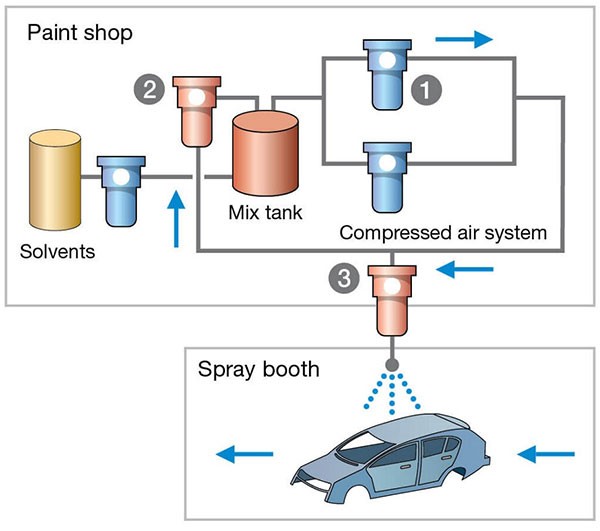 Marksman – Cartridge/Bag Filters

Combining the performance of depth cartridge filters to the ease of use of bag filters, Marksman is designed to improve fluid quality while not adding to system complexity. Marksman is flexible and is offered in medias including polypropylene, nylon, and glass and customizable for specific applications. These filters also fit existing Size 1 and Size 2 bag housings making retrofitted upgrades easy.  
As the Marksman operates similarly to a bag system, contaminants are kept trapped and upstream of the nozzle during replacement. The filter has enough built in rigidity so as to eliminate the need for internal springs or guide plates.
Marksman offers improved cost and labor efficiencies as the high surface area and long life of one filter can equal the performance life of up to 10 standard 25.4 cm / 10 in bag filters. 
The Premium bag filter applications
Pall / FSI - Filter Bags
Filseal – Sealant Coating Filtration

Our Filseal filtration elements are built for high viscosity applications such as PVC sealants, underbody waxes, and high-solids mastic protective coatings. The element is built from 'Rigimesh' a woven stainless steel mesh media. It is reusable and capable of withstanding high pressure (210 bard - 3045 psid maximum element collapse rating). 
To understand how our filtration solutions can fit and upgrade the performance of your paint and protective coating process, contact a Pall expert today.
Leading the Industry with product solutions that fit your customers needs.
Quality, productivity, and cost reduction are the three keys to success for most automotive companies.
How can we help?
If you are looking for innovative filtration solutions, you've come to the right place. Our knowledgeable subject matter experts are here for you. Contact us for more information. Thank you and we look forward to assisting you shortly.