Delivering Consumer-Safe, Shelf Stable Cold Brew Coffee
Due to the lack of sterilizing temperatures during coffee steeping, producing cold brew coffee poses specific challenges when it comes to food safety. The lengthy brewing time at room temperature provides conditions that may allow for harmful spore-forming bacteria including C. botulinum to develop. This critical second filtration step is essential to ensure manufacturer compliance with FDA low acid food safety standards and to protect consumer health. While different coffee microbial control methods are popular for producing a shelf-stable product, Pall final sterilizing grade membranes provide a physical barrier for microbial removal while other methods do have some disadvantages:
Pasteurization changes or degrades the flavor due to heating
Acidification addition may change the flavor
Some methods can also increase overall manufacturing costs.
As a pasteurization alternative, pre and final cartridge filters can be used in housings of sanitary design. Pall's
Fluorodyne® II filters
and Fuente II filters are used extensively in the beverage industry and provide secure and reliable removal of spoilage microorganisms in a variety of applications while preserving organoleptic properties, flavor, mouth appeal and quality. Both can be used and final filter selection is ultimately based on the quality profile of the brewed coffee.
Constructed from two layers of 0.2 µm membrane media, the Flurodyne II (polyvinylidene fluoride, PVDF) and Fuente II (polyethersulfone PES), are designed to fit into sanitary housings to ensure effective microbial removal.
Installed in Pall sanitary housings, these filters can be steamed in place (SIP) and hot water cleaned, without compromising their robustness or removal performance. Analyzing membrane filter performance to qualify finished batch quality can be achieved through an integrity test. This can be executed both prior to and after completion of each filtration batch.
To request a free process evaluation, please contact us.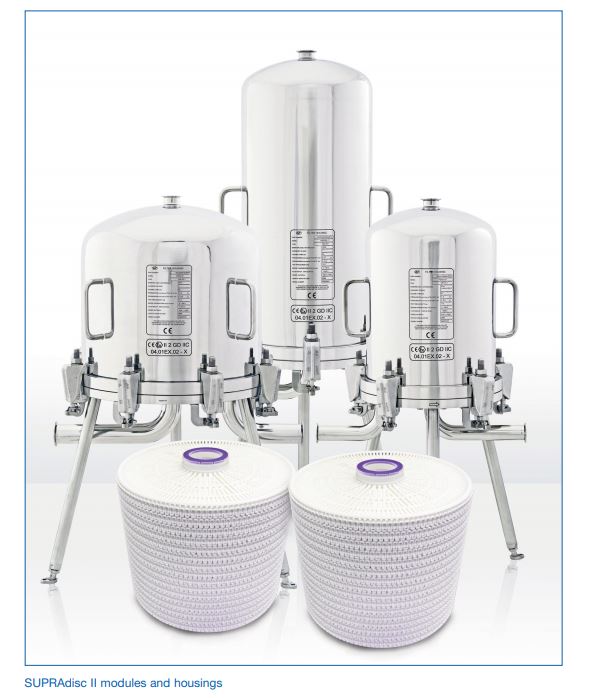 Step 1: Cold Brew Clarification
Learn more about the first step in the process which provides effective cold brew coffee clarification
Learn more about the first step in the process which provides effective cold brew coffee clarification
Read more