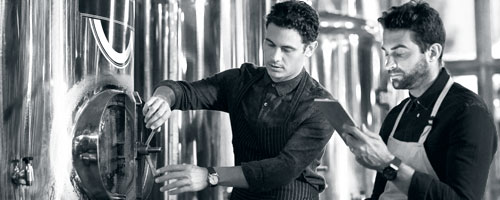 Blog
The Benefits of IoT in Brewing - Reducing Costs and Enhancing Sustainability
According to Global Industry Analysts Inc the internet of things (IoT) analytics market will reach $72 billion by 2026. From automotive to healthcare, industries are leveraging innovative technologies to improve process inefficiencies, address maintenance issues and improve productivity. As a long-established billion-dollar industry, beer brewing also benefits from IoT innovations. The world beer market is rapidly evolving - whether a small craft brewery or a larger operative, steady, efficient production is a key to financial success and embracing modern technology is a must to stay competitive.
Smart Beer
Leveraging technology to gather insights on the production line enables brewers' greater control over the manufacturing process. By using digital filtration and stabilization, brewers gain a much deeper insight into their filtration and stabilization processes, which allows a better adjustment to reduce costs, improve sustainability and increase efficiency. The main areas where IoT can improve brewery processes include:
Waste Reduction & Energy Use – monitor and optimize to reduce economic and environmental costs
Quality Control - monitor and control relevant quality parameters and track batches effectively for compliance and regulatory
Health and Safety Compliance - protect the safety of employees and customers
Data Handling & Security
Data Security IoT users primary concern. Modern automated breweries generate and process a large amount of data. Therefore, the technology must protect the data with the use of the most secure control processes for data transfer which will continuously identify risks and takes the necessary actions to ensure brewery data remains where needed.
Data security is PALL's highest priority. As a result, we take all the necessary steps to remain best-in-class. Our goal is to provide an easy means of obtaining quantifiable data for brewing operations. Through Pall BeerIoT, brewers can optimize their operations, improve sustainability and quality initiatives, and improve their OpEx.
Our Solutions to Support Beer IoT
Pall has implemented IoT-based digital information and process management for our beer systems including the PROFi crossflow membrane system, the Continuous beer stabilization (CBS) systems and our beer final filter CFS Neo system (CFS Neo). By extending real-time data management through IoT, constant access to data is made available across the organization in user-defined-secure formats.
Typical examples of digital data analytics are:
Specific consumption data - water, cleaning agents, electricity, membrane life
Performance data - degree of utilization, efficiency and downtime
Quality data - oxygen uptake, color, original extract and haze
Cost data – $ values for water, cleaner, membranes, electricity and beer loss
Notifications - alarms and messages
In addition to the real-time data, the IoT tool can analyze trends such as but not limited to; historical reviews, brand-related influences, raw material impacts and other factors influencing production. The ability to benchmark against other installations within a brewery group and the industry average are also available.
Pall IoT provides direct online availability of all system-specific documentation and training documents, spare parts lists, service reports, operating instructions, safety instructions and acceptance reports.
To learn more about our PROFI solution, visit here.
To learn more about our CBS system, visit here.
To learn more about CFS Neo, visit here.
You can also find out more about our final filtration solutions for beer here.
To speak to one of our experts about Pall IoT Secure Systems.